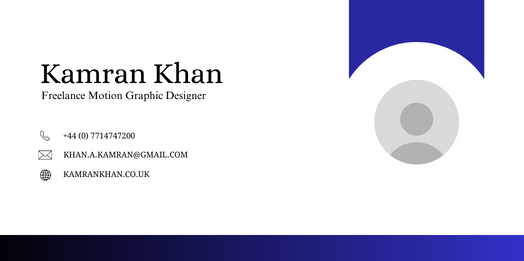 How to Be a Successful Freelance Motion Graphics Artist
Freelance motion graphics artists are in high demand, as businesses and individuals alike increasingly turn to motion graphics to communicate their message. If you're a motion graphics artist who's thinking about going freelance, there are a few things you need to know to be successful.
Build A Strong Portfolio
Your portfolio is your calling card, so it's essential that it showcases your best work. Make sure your portfolio is well-organized and easy to navigate, and that it includes a variety of projects that demonstrate your skills.




Set Your Rates
It's important to set your rates competitively, but don't undervalue your work. Consider your experience, skills, and the value you bring to your clients when setting your rates.
Market Yourself
In order to find clients, you need to let them know that you're available. There are a number of ways to market yourself as a freelance motion graphics artist in London, such as online platforms, social media, and networking.
Manage Your Time Effectively
As a freelancer, you're responsible for managing your own time. This can be challenging, but it's essential to staying on top of deadlines and meeting client expectations.
Build Relationships With Clients
In the world of freelancing, relationships are everything. Make an effort to build strong relationships with your clients, and they'll be more likely to come back to you for future projects.
Stay Up-To-Date On The Latest Trends
The world of motion graphics is constantly evolving, so it's important to stay up-to-date on the latest trends. This will help you create work that is fresh and relevant.




Be professional
In order to be successful as a freelance motion graphics designer, it's important to be professional in all your dealings with clients. This means being on time, meeting deadlines, and delivering high-quality work.
If you follow these tips, you'll be well on your way to becoming a successful freelance motion graphic artist.
Here are some additional tips for freelance motion graphics artists:
Be organized. Keep track of your projects, deadlines, and invoices in a system that works for you.
Be flexible. Be prepared to adapt to changes in project scope or deadlines.
Be communicative. Keep your clients updated on the progress of their projects.
Be responsive. Respond to client inquiries and feedback promptly.
Be reliable. Deliver high-quality work on time and within budget.
By following these tips, you can set yourself up for success as a freelance motion graphics artist.
1818 Views