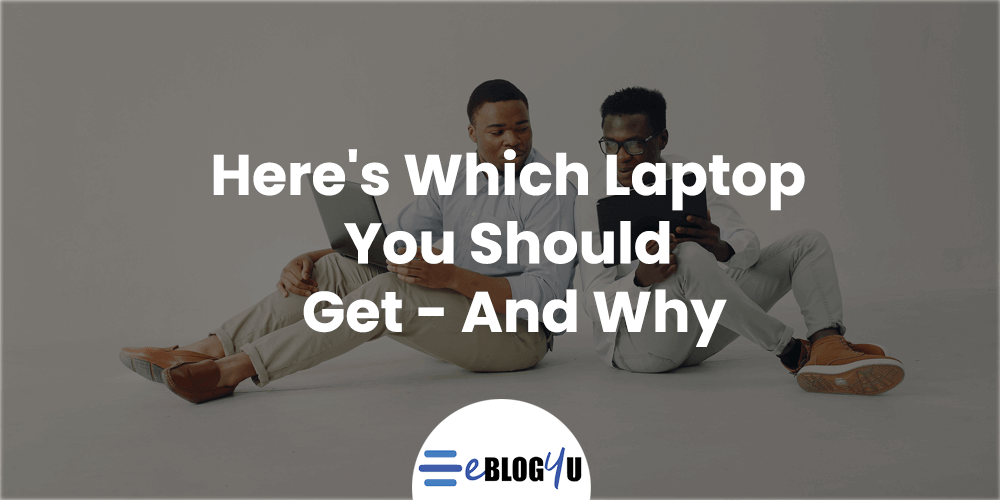 Here's Which Laptop You Should Get – And Why
It can be tough to decide which laptop to buy. But don't worry, we are here to help. In this article, we'll recommend the best laptops for different needs and budgets, and explain why each one is worth considering.
Apple MacBook Air
The Apple MacBook Air is one of the most popular laptops on the market and for good reason. It's lightweight, has a long battery life, and is incredibly portable. Plus, it comes with all of the features and benefits that you would expect from an Apple product. If you're looking for a high-quality laptop that will serve you well for years to come, the MacBook Air is a great option.
Google Pixelbook Go
The Google Pixelbook Go is a great choice for a laptop if you're looking for something that's lightweight and portable. It also has a long battery life, you won't have to worry about recharging it frequently. Another plus is that it comes with a built-in security system, which will help keep your data safe.
Microsoft Surface Laptop 3
The Microsoft Surface Laptop is one of the most popular laptops on the market. It's thin and light, yet still powerful enough to handle all your needs. Plus, it has a beautiful touchscreen display.
So, why should you get the Surface Laptop? Here are three reasons:
1. The design is top-notch. The Surface Laptop is made out of premium materials, like aluminum and Gorilla Glass. It's also incredibly thin and light, making it easy to carry around with you.
2. The performance is excellent. The Surface Laptop comes with Intel Core i5 or i7 processors, 8GB of RAM, and up to 1TB of storage. So, it can handle anything you throw at it, whether you're working on a big project or just browsing the web.
3. The battery life is phenomenal. With up to 14 hours of battery life, you can easily get through a full day on a single charge. Plus, the fast charging feature means you can get back up to 80% power in just an hour.
So, if you're looking for a new laptop, the Surface Laptop is definitely worth considering. It's well-designed
Acer Aspire 5
Acer Aspire is a great laptop for students and business professionals. It's durable, has a long battery life, and is very affordable.
The Acer Aspire has a 15.6-inch display, making it a good size for carrying around campus or to the office. It's also lightweight, at just under 4 pounds. The Aspire is powered by an Intel Core i5 processor and has 4GB of RAM. That's enough power for most tasks, including light gaming and video streaming.
One of the best features of the Acer Aspire is its price. It is one of the most affordable laptops on the market, yet it doesn't sacrifice quality or performance. The Aspire is also available with a larger hard drive if you need more storage space.
If you're looking for a great laptop that won't break the bank, the Acer Aspire is a great choice.
Lenovo IdeaPad S340
Lenovo's IdeaPad S is a great laptop for a variety of reasons. First and foremost, it's extremely affordable. It's also relatively powerful, with an Intel Core i5 processor and 8GB of RAM.
The IdeaPad S also has a number of features that make it ideal for students. It has a backlit keyboard, which is great for studying in low-light conditions. It also has a fingerprint reader, which is a great security feature.
Overall, the Lenovo IdeaPad S is a great laptop for anyone who is looking for an affordable and powerful device. It's perfect for students due to its backlit keyboard and fingerprint reader.
Buying a Laptop
There are a lot of factors to consider when purchasing a laptop. Here are some of most important ones:
1. Price – Obviously, you'll want to stay within your budget when choosing a laptop. But don't sacrifice quality for the sake of saving a few bucks.
2. Size – Think about how you'll be using your laptop. If you plan on carrying it around with you often, you'll want to choose a smaller, more portable option.
3. Battery life – This is especially important if you plan on using your laptop for travel or other activities where you won't have easy access to an outlet. Choose a laptop with good battery life so you can stay productive on the go.
4. Operating system – Do you prefer Windows or Mac? This is an important consideration, as it will determine which type of software and applications you can use on your laptop.
5. Processor – A laptop's processor affects its speed and overall performance. If you plan on using your laptop for demanding tasks like video editing or gaming, you'll need a powerful processor.
Conclusion
So, there you have it — five of the best laptops on the market and why they made our list. We hope that this article has helped you narrow down your search for the perfect laptop and that you now have a better idea of what to check for when making your purchase. Thank you for reading and we wish you all the best in your future endeavors!
76 Views