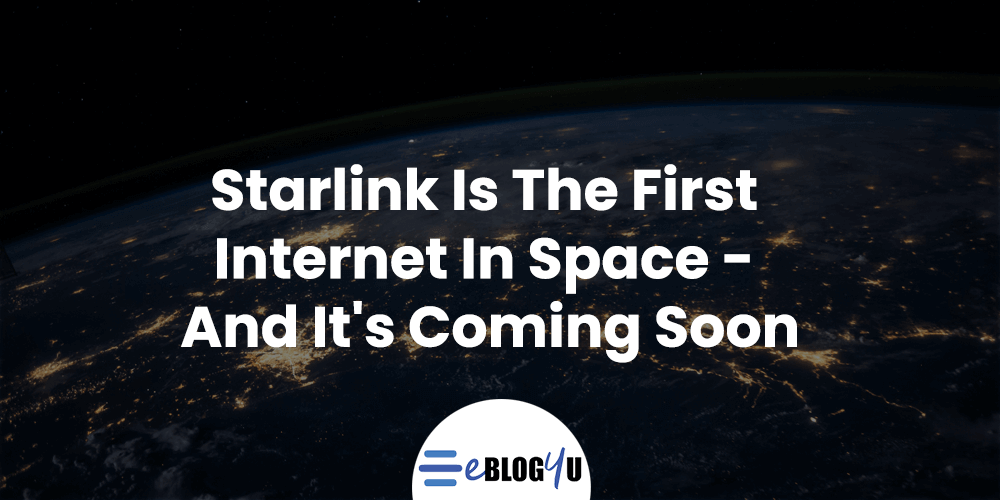 Starlink Is The First Internet In Space – And It's Coming Soon
In the near future, you may be able to get your internet service from space. That's because startup company SpaceX is close to launching its Starlink satellite constellation, which will provide high-speed internet to anywhere on the planet.
If you're wondering how this will work, or what the implications of this technology are, read on for everything you need to know about Starlink.
What is Starlink?
SpaceX is on a mission to make the internet accessible to everyone, no matter where they live. And their latest project, Starlink, is doing just that.
Starlink is a satellite-based internet service that will provide high-speed, low-latency internet to people around the world. The service is expected to launch in 2020, and will initially be available in select areas.
But what makes Starlink different from other satellite-based internet services?
For one, SpaceX plans to launch a constellation of 12,000 satellites into orbit, which will provide coverage to nearly anywhere on the planet. And because the satellites are in low earth orbit (LEO), they will have much lower latency than traditional satellites.
In addition, SpaceX is using some of the most advanced technology to develop the Starlink system. Their satellites are equipped with state-of-the-art antennas and lasers that will allow for data speeds of up to 1 gigabit per second – This has a speed that allows for lag-free online gaming or 4K video streaming.
So whether you're in a remote location or just want an alternative to cable or fiber, Starlink might be the perfect solution for you.
How Starlink Works
SpaceX's Starlink is a satellite-based internet service that is currently in beta testing. Once it is fully operational, it will provide high-speed internet to users around the world, including those in remote and rural areas. Here's how it works:
Satellites in space relay signal back and forth to ground stations on Earth. These ground stations then connect to the internet backbone, which provides a high-speed connection. Users on the ground can access this connection via a special antenna that connects to their home or office router.
The service is designed to be highly reliable and affordable, with plans starting at just $50 per month. And because it doesn't rely on ground infrastructure, it should be much less affected by weather conditions or other disruptions.
If you're interested in getting connected to Starlink, you can sign up for the beta program on SpaceX's website.
What are the Benefits of Starlink?
Starlink is the first internet in space, and it's coming soon. This new service promises to provide high-speed internet to people in remote areas, and it has the potential to revolutionize the way we connect with the world. Here are some of the benefits of Starlink:
1. Starlink will bring high-speed internet to remote areas.
2. Starlink has the potential to revolutionize the way we connect with the world.
3. Starlink could help bridge the digital divide between developed and developing countries.
4. Starlink could help reduce our reliance on terrestrial infrastructure for internet connectivity.
5. Starlink could provide a backup for terrestrial internet connectivity in case of disasters.
How to Get Starlink
If you want to get your hands on SpaceX's Starlink internet, you'll have to act fast. The company is now taking pre-orders for the service, which is set to launch later this year.
Here's what you need to know about how to get Starlink.
SpaceX is currently only taking pre-orders from customers in the United States and Canada. The company says that it plans to expand to other countries in the future, but for now, only those in North America can sign up.
To pre-order, you'll need to put down a deposit of $99 USD. This will reserve your spot in line for when Starlink launches. SpaceX says that it will start fulfilling orders on a first-come, first-served basis.
Once SpaceX begins launching satellites for the Starlink network later this year, customers who have pre-ordered will be able to begin installing the required equipment. This includes a dish that must be mounted on your roof and connected to an Ethernet port.
The dish will need to have a clear view of the sky in order to work properly. Once it's installed, you'll be able to connect to the internet using Starlink's space-
Starlink Alternatives
If you're looking for an alternative to Starlink, there are a few options out there. One is HughesNet, which offers internet service via satellite. Another is Viasat, which offers both satellite and ground-based services. And lastly, there's Iridium, which offers global mobile voice and data communications via satellite.
How Much Does Starlink Cost?
Starlink is the first high-speed internet service that will be available in space. The company behind Starlink, SpaceX, plans to launch a network of satellites that will provide internet access to people around the world.
Starlink is still in development, but the company has said that the service will be available to consumers in 2020. The service will initially be available in the United States, Canada, and the United Kingdom.
SpaceX has not announced how much Starlink will cost, but the company has said that it will be competitive with other high-speed internet providers on Earth.
When Is Starlink Launching?
SpaceX's Starlink is the first satellite internet constellation. It is scheduled to launch in 2020
Conclusion
Starlink is an exciting new development that has the potential to change the way we access the internet forever. It's fast, reliable, and available now, so there's no reason not to try it out. Whether you're a space enthusiast or just looking for a better internet connection, Starlink is definitely worth checking out.
83 Views